Twenty Nineteen is here, and we are once again releasing our breakdown of the best ideas from our customers! This year, we have some AWESOME intranet ideas that you'll love.
1) Hide An Easter Egg!
This idea is SO MUCH FUN and an INCREDIBLE way to get employees/users onto your intranet for the first time.
Choose a few spots in your intranet (perhaps different pages or files and folders) and add in "easter eggs" that employees can find. For example, below –  we've added this "golden ticket" image to five various pages. When employees find them, the first to contact the intranet administrator with the location wins a $25 gift card to a local restaurant!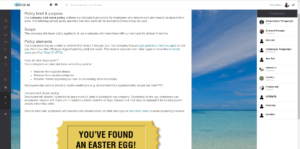 Why we LOVE this idea?
This is a great way to get employees digging and searching through your intranet. Yes – they're looking for the easter eggs, but in the mean time, they are discovering a LOAD of content they might not have known existed!
2) Add A "Find It On The Intranet" To Your Signature
Want to guess what question is the #1 trigger for building an intranet? Here it is:
" Can you email me a copy of [INSERT RESOURCE HERE]? " 
Whether it's logos, sick day policies, or something else – many of our customers start their intranet so people know where to find these resources.  Many of our clients use the DOC DRIVE (learn more here) to host these resources.
Here's the unfortunate thing:
People will still ask where to find these resources – even a year or so after you launch your intranet (it'll take some time). But one of our clients took the initiative to ensure their users KNEW about the intranet each time. So marketing staff began including this signature every time they answered one of these questions.

This is an awesome way to promote your intranet when answering questions about resources.
3) Use Your Intranet To Link To OTHER resources
We sometimes get SO excited by the stuff we put ON our intranet, we forget about all the other resources we can give people access to, things like your website, your suppliers websites, ordering portals, etc.
Even though these popular resources may be on separate websites, it's a great idea to keep a page with all popular links in one area, so they can be easily found.

4) Follow Our 2019 Popular Pages Guide
In addition to the great features we have available already including newsfeed, docs, chat, and more – Engynn allows you to create your own pages. Check out our 2019 guide for most popular page designs. Here's a few great resources.
Popular Links Page
Company Contacts Page
Please follow and like us: