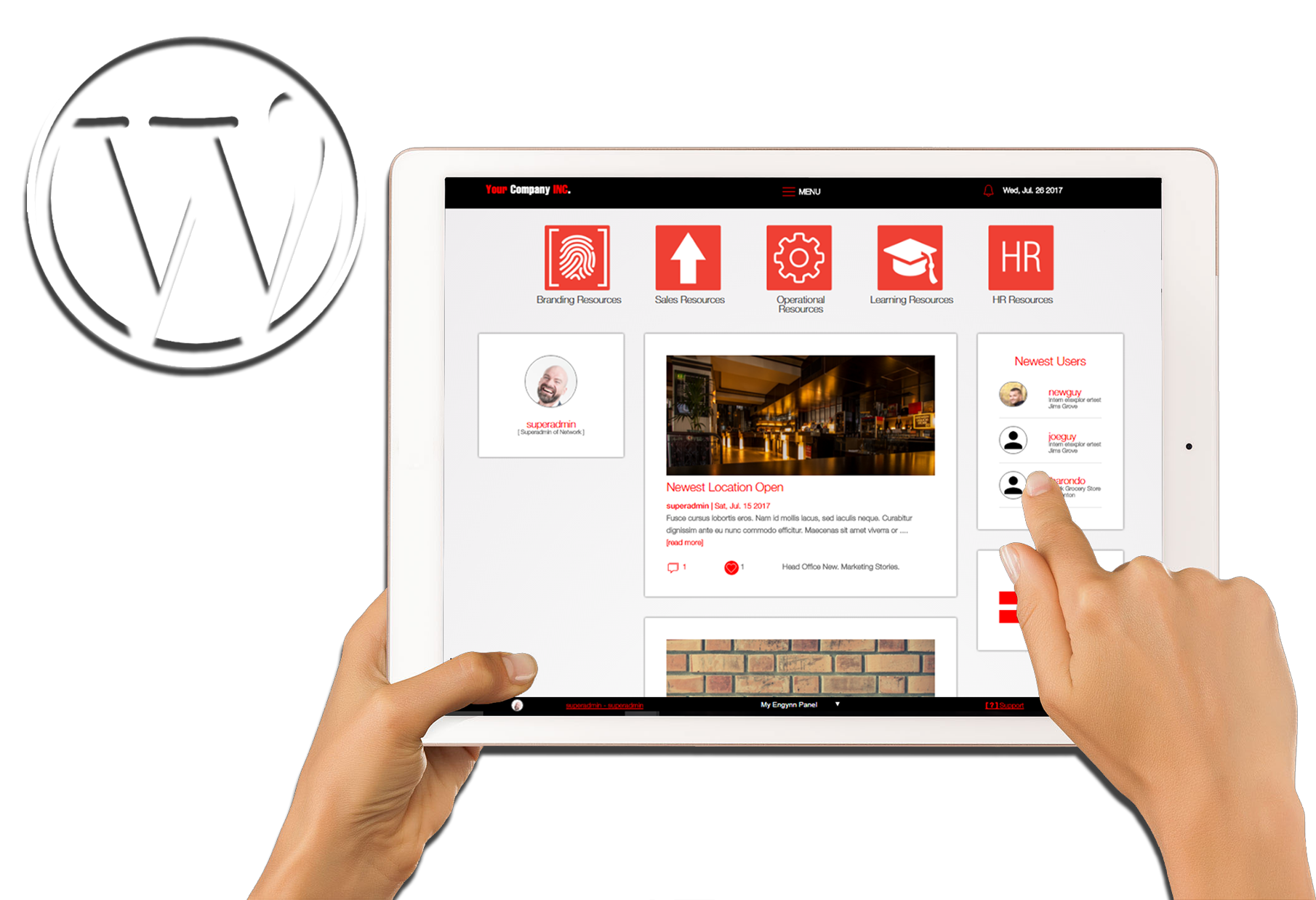 Engynn's social intranet software has everything you need to connect your organization.
Download It Now
Free WordPress Intranet Template

Are you thinking of using WordPress for an intranet or intranet portal? We're happy to provide for you with this 100% free wordpress intranet theme. Just download our wordpress intranet theme, install to wordpress, and you'll be on your way to creating a functioning intranet/extranet portal!
Not Familiar With Hosting WordPress Sites?
If you aren't familiar with hosting and managing wordpress sites yet, this theme may not be for you. But we still have your back! Did you know Engynn has a FREE version of it's intranet software that has ZERO setup, and can be started in minutes. Check it out here!
Step 1: Download Our WordPress Theme
Download Engynn's FREE wordpress intranet template, install it on your wordpress site and activate it!
Step 2: Create Your Intranet
Our free wordpress intranet theme comes with everything you need to get started!
Step 3: Launch Your Intranet!
Once your intranet looks how you want, you'll be ready to launch!
Continents including North America, Europe, and Asia.
Frequently Asked Questions
I'm not familiar with wordpress, what now?
We can still help! WordPress is a popular content management system used to design and manage websites – the "theme" or "template" we are offering simply allows you to convert your wordpress website into a password restricted intranet. You will still have to host, create, and manage your wordpress site, as well as add users. If you're unsure of how to do this, then you might not be looking for a WordPress intranet. However, Engynn does offer a free subscription to our intranet software, which allows you to create an intranet in minutes, and it's easy as cake! You can get an account here!
How Can Such An AWESOME theme be free?
We're really BIG on intranets – we LOVE when businesses can experience the benefits of fully connecting their staff! We aren't technically a WordPress theme builder, we offer a separate intranet software called "Engynn Social Intranet" with tons of great features – it's easy to start, and we even have a free plan! If you're not looking for this, we're happy to offer you this free intranet wordpress theme! Once you're ready to upgrade to the future of intranets, like 1200 users already have, we're ready to help you out!
Do You Offer Tech Support For This Theme?
Yes we do – we're always happy to help. However, as this product is a free service alternative to our primary software, we ask that you please give us 24 – 48 hours response time.
What Does The Theme Do?
This theme is an "intranet" or "extranet" theme in that it will turn your WordPress site into a password-protected site that can only be accessed by users you grant access to. You will still need to build your WordPress site, add content, manage users, and integrate any plugins you'd like.
Can I Use The Theme With WP.COM
Unfortunately WordPress.com does not allow custom themes to be installed. If you would like to use this theme, you will need to purchase your own hosting, install wordpress, and add this theme to your installation. If you do not know how to do this, we have the perfect solution for you. Engynn's primary intranet service is an incredible software for developing intranets and even has a FREE plan. Check it out here! 
How Do I Install It
We've created this video for you to explain how to use the theme.